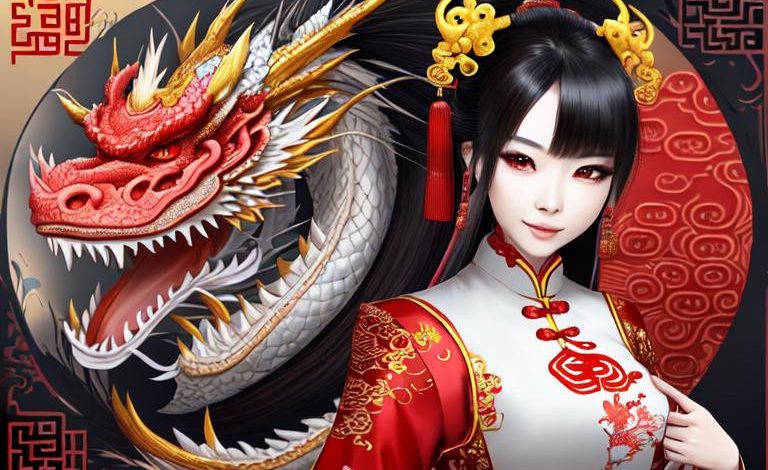 Discover Your Chinese Zodiac Sign
The Legend Of Chinese Astrology
Chinese astrology was formed by Buddha. To celebrate the Chinese new year Buddha invited 12 animals to a race, and the order in which they would arrive at the finish line, would determine their place in the Chinese zodiac. The order in which they arrived are as follows; Rat, Ox, Tiger, Rabbit, Dragon, Snake, Horse, Sheep, Monkey, Rooster, Dog, Pig.  The cunning rat who won the race, did so by sneaking a ride on the oxen's back then running to victory. The dragon, who should have won the race because it could fly, stopped to help villagers who were caught in a flood, although this tale differs depending on the story teller.
This chart will also tell you which animal and element you are.
Each sign is associated with an element:
Metal – Strength of will, eloquence
Water – Sensitivity, charisma
Wood – Creativity, compassion
Fire – Passion, leadership
Earth – Reliability, prudence
The Twelve Signs In the Chinese Zodiac.
The RAT
1900 Jan 31 to Feb 18, 1901: Metal Rat
1912 Feb 18 to Feb 5, 1913: Water Rat
1924 Feb 5 to Jan 24, 1925: Wood Rat
1936 Jan 24 to Jan 24, 1937: Fire Rat
1948 Feb 10 to Jan 28, 1949: Earth Rat
1960 Jan 28 to Feb 14, 1961: Metal Rat
1972 Feb 15 to Feb 2, 1973: Water Rat
1984 Feb 2 to Feb 19, 1985: Wood Rat
1996 Feb 19 to Feb 6, 1997: Fire Rat
2008 Feb 7 to Jan 25, 2009: Earth Rat
The OX
1901 Feb 19 to Feb 7, 1902: Metal Ox
1913 Feb 6 to Jan 25, 1914: Water Ox
1925 Jan 25 to Feb 12, 1926: Wood Ox
1937 Feb 11 to Jan 30, 1938: Fire Ox
1949 Jan 29 to Feb 16, 1950: Earth Ox
1961 Feb 15 to Feb 4, 1962: Metal Ox
1973 Feb 3 to Jan 22, 1974: Water Ox
1985 Feb 20 to Feb 8, 1986: Wood Ox
1997 Feb 7 to Jan 27, 1998: Fire Ox
2009 Jan 26 to Feb 13, 2010: Earth Ox
The TIGER
1902 Feb 8 to Jan 28, 1903: Water Tiger
1914 Jan 26 to Feb 13, 1915: Wood Tiger
1926 Feb 13 to Feb 1, 1927: Fire Tiger
1938 Jan 31 to Feb 18, 1939: Earth Tiger
1950 Feb 17 to Feb 5, 1951: Metal Tiger
1962 Feb 5 to Jan 24, 1963: Water Tiger
1974 Jan 23 to Feb 10, 1975: Wood Tiger
1986 Feb 9 to Jan 28, 1987: Fire Tiger
1998 Jan 28 to Feb 15, 1999: Earth Tiger
2010 Feb 14 to Feb 2, 2011: Metal Tiger
The RABBIT
1903 Jan 29 to Feb 15, 1904: Water Rabbit
1915 Feb 14 to Feb 2, 1916: Wood Rabbit
1927 Feb 2 to Jan 22, 1928: Fire Rabbit
1939 Feb 19 to Feb 7, 1940: Earth Rabbit
1951 Feb 6 to Jan 26, 1952: Metal Rabbit
1963 Jan 25 to Feb 12, 1964: Water Rabbit
1975 Feb 11 to Jan 30, 1976: Wood Rabbit
1987 Jan 29 to Feb 16, 1988: Fire Rabbit
1999 Feb 16 to Feb 4, 2000: Earth Rabbit
2011 Feb 3 to Jan 22, 2012: Metal Rabbit
The DRAGON
1904 Feb 16 to Feb 3, 1905: Wood Dragon
1916 Feb 3 to Jan 22, 1917: Fire Dragon
1928 Jan 23 to Feb 9, 1929: Earth Dragon
1940 Feb 8 to Jan 26, 1941: Metal Dragon
1952 Jan 27 to Feb 13, 1953: Water Dragon
1964 Feb 13 to Feb 1, 1965: Wood Dragon
1976 Jan 31 to Feb 17, 1977: Fire Dragon
1988 Feb 17 to Feb 5, 1989: Earth Dragon
2000 Feb 5 to Jan 23, 2001: Metal Dragon
2012 Jan 23 to Feb 9, 2013: Water Dragon
The SNAKE
1905 Feb 4 to Jan 24, 1906: Wood Snake
1917 Jan 23 to Feb 10, 1918: Fire Snake
1929 Feb 10 to Jan 29, 1930: Earth Snake
1941 Jan 27 to Feb 14, 1942: Metal Snake
1953 Feb 14 to Feb 2, 1954: Water Snake
1965 Feb 2 to Jan 20, 1966: Wood Snake
1977 Feb 18 to Feb 6, 1978: Fire Snake
1989 Feb 6 to Jan 26, 1990: Earth Snake
2001 Jan 24 to Feb 11, 2002: Metal Snake
2013 Feb 10 to Jan 30, 2014: Water Snake
The HORSE
1906 Jan 25 to Feb 12, 1907 : Fire Horse
1918 Feb 11 to Jan 31, 1919 : Earth Horse
1930 Jan 30 to Feb 16, 1931 : Metal Horse
1942 Feb 15 to Feb 4, 1943 : Water Horse
1954 Feb 3 to Jan 23, 1955 : Wood Horse
1966 Jan 21 to Feb 8, 1967 : Fire Horse
1978 Feb 7 to Jan 27, 1979: Earth Horse
1990 Jan 27 to Feb 14, 1991: Metal Horse
2002 Feb 12 to Jan 31, 2003: Water Horse
2014 Jan 31 to Feb 18, 2015: Wood Horse
The GOAT
1907 Feb 13 to Feb 1, 1908 : Fire Goat
1919 Feb 1 to Feb 19, 1920 : Earth Goat
1931 Feb 17 to Feb 5, 1932 : Metal Goat
1943 Feb 5 to Jan 24, 1944 : Water Goat
1955 Jan 24 to Feb 11, 1956 : Wood Goat
1967 Feb 9 to Jan 29, 1968 : Fire Goat
1979 Jan 28 to Feb 15, 1980 : Earth Goat
1991 Feb 15 to Feb 3, 1992 : Metal Goat
2003 Feb 1 to Jan 21, 2004: Water Goat
2015 Feb 19 to Feb 7, 2016: Wood Goat
The MONKEY
1908 Feb 2 to Jan 21, 1909: Earth Monkey
1920 Feb 20 to Feb 7, 1921 : Metal Monkey
1932 Feb 6 to Jan 25, 1933: Water Monkey
1944 Jan 25 to Feb 12, 1945 : Wood Monkey
1956 Feb 12 to Jan 30, 1957: Fire Monkey
1968 Jan 30 to Feb 16, 1969 : Earth Monkey
1980 Feb 16 to Feb 4, 1981: Metal Monkey
1992 Feb 4 to Jan 22, 1993 : Water Monkey
2004 Jan 22 to Feb 8, 2005: Wood Monkey
2016 Feb 8 to Jan 27, 2017: Fire Monkey
The ROOSTER
1909 Jan 22 to Feb 9, 1910 : Earth Rooster
1921 Feb 8 to Jan 27, 1922 : Metal Rooster
1933 Jan 26 to Feb 13, 1934 : Water Rooster
1945 Feb 13 to Feb 1, 1946 : Wood Rooster
1957 Jan 31 to Feb 17, 1958 : Fire Rooster
1969 Feb 17 to Feb 5, 1970 : Earth Rooster
1981 Feb 5 to Jan 24, 1982 : Metal Rooster
1993 Jan 23 to Feb 9, 1994 : Water Rooster
2005 Feb 9 to Jan 28, 2006: Wood Rooster
2017 Jan 28 to Feb 15, 2018: Fire Rooster
The DOG
1910 Feb 10 to Jan 29, 1911 : Metal Dog
1922 Jan 28 to Feb 15, 1923 : Water Dog
1934 Feb 14 to Feb 3, 1935 : Wood Dog
1946 Feb 2 to Jan 21, 1947 : Fire Dog
1958 Feb 18 to Feb 7, 1959 : Earth Dog
1970 Feb 6 to Jan 26, 1971 : Metal Dog
1982 Jan 25 to Feb 12, 1983 : Water Dog
1994 Feb 10 to Jan 30, 1995 : Wood Dog
2006 Jan 29 to Feb 3, 2007: Fire Dog
2018 Feb 16 to Feb 4, 2019: Earth Dog
The PIG
1911 Jan 30 to Feb 17, 1912 : Metal Pig
1923 Feb 16 to Feb 4, 1924 : Water Pig
1935 Feb 4 to Jan 23, 1936 : Wood Pig
1947 Jan 22 to Feb 9, 1948 : Fire Pig
1959 Feb 8 to Jan 27, 1960 : Earth Pig
1971 Jan 27 to Jan 15, 1972 : Metal Pig
1983 Feb 13 to Feb 1, 1984 : Water Pig
1995 Jan 31 to Feb 18, 1996 : Wood Pig
2007 Feb 18 to Feb 6, 2008: Fire Pig
2019 Feb 5 to Jan 24, 2020: Earth Pig