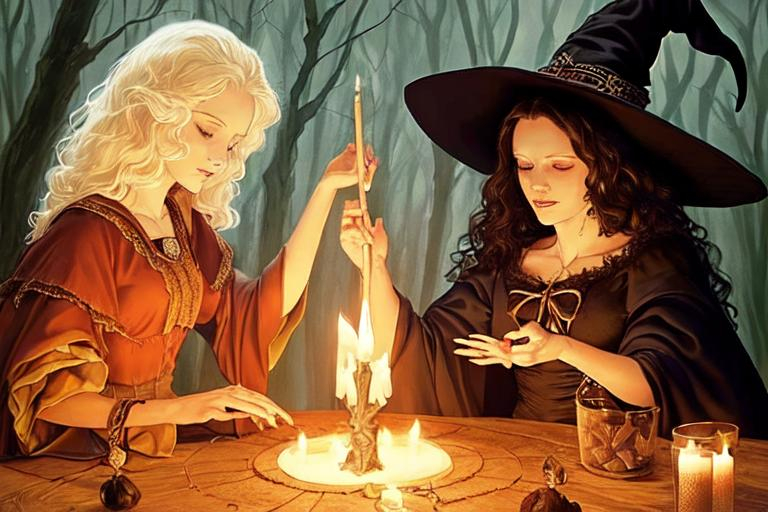 Greetings, fellow witch! I'm thrilled to welcome you to our website – your one-stop-shop for all things magical and spiritual.
As a practicing witch, I know firsthand the transformative power of the craft. There's nothing quite like harnessing the energy of the universe to manifest your deepest desires and connect with your inner self. And that's exactly what we're all about here at our site.
Our mission is to provide a comprehensive resource for all witches, whether you're a seasoned practitioner or just starting on your journey. From spells and potions to divination tools and crystals, we've got everything you need to unlock your true potential and live your best life.
But more than that, we're a community. We believe in the power of coming together to share knowledge, support one another, and build a stronger, more connected spiritual family. That's why we offer forums, groups, and events to help you connect with like-minded individuals and grow your practice.
At our site, we're proud to celebrate the diversity of the witchcraft community. Whether you're a traditionalist or eclectic, Wiccan or witch, we welcome all paths and practices. We believe that every witch has their own unique gifts and talents, and it's our job to help you cultivate and unleash them.
So, what can you expect to find here at our site? We offer a wide range of products and resources to support your spiritual journey. Our selection of grimoires, spells, and potions is expertly crafted and tested to ensure maximum efficacy. We also offer a variety of divination tools, including tarot decks, pendulums, and runes, to help you tap into your intuition and connect with the universe.
But we're more than just a store – we're a resource. Our blog is filled with informative articles, tutorials, and how-to guides to help you deepen your practice and explore new avenues of magic. And our forums and groups offer a supportive community where you can ask questions, share ideas, and connect with other witches from around the world.
Finally, I'd like to thank you for being a part of our community. Whether you're a longtime member or a new visitor, we're honored to have you here. Our goal is to empower witches everywhere to live their best lives, and we're grateful for the opportunity to do so. So go forth, harness the power of the universe, and remember – you are a witch, and you are magic.