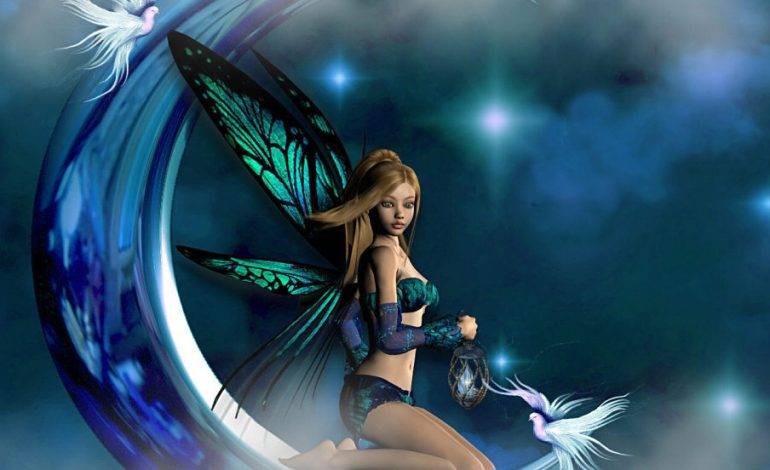 [vc_row][vc_column][vc_column_text]
Fairies
The term fairy can be used to describe many types of magical creatures. Most people relate the word fairy to the more ethereal image, the classic fairy with wings and flowing hair. Fairies are human in appearance and they have magical powers, the origin of fairies is the point of much contention as no one can actually say where they originated from.
Fairies are capable of making themselves invisible sometimes, fairies actually fly on the back of birds and they are very in tune with the creatures of the sky. Fairies are very intelligent creatures and their fragility is deceptive, they are actually powerful magicians and very strong mentally and physically.
Children who have imaginary friends are actually talking to fairies, as fairies feel most comfortable with children and are often drawn to their laughter. Adults catch fairies out of the corner of the eye, it is rare for an adult to clearly see a fairy as children do. Fairies often watch children while they sleep and they whisper fairy tales to the sleeping child. The best times to see a fairy, are just as the sun rises and just as the sun sets.
Even when fairies aren't seen they can often be felt, if you are very quiet you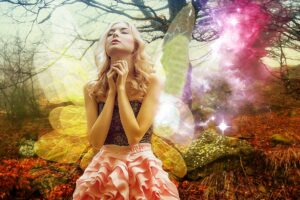 may just catch their tinkling bell like voices in the breeze. If you see lights moving in the dead of night, it is usually a fairy and if you feel a prickling on the back of your neck you know a fairy is close by. A fairy also exudes a most exquisite scent like that of a rose.
Because fairies love nature they often live in peoples gardens and they enjoy sitting on a leaf and floating on a pond or lake. To encourage fairies, you can leave out a small container of milk in the night before you go to sleep as fairies love milk. It is a good idea to encourage fairies because they bring good luck with them.
Fairies especially love lavender and you can be sure that if there is lavender in your garden there will be a fairy close by. They like the smell of all flowers and often sit on the petals of flowers, enjoying the scent that they exude. If you ever feel blocked creatively, call on the fairy realm before you go to sleep and they will whisper magic words of encouragement to you while you are sleeping.
Fairies are capable of changing their shape and colour to blend in with nature, making themselves look appealing to the humans they choose to show themselves to. Anything that sparkles draws the attention of a fairy, they are a little like magpies in that way, if you leave jewellery that sparkles on your dressing table, a fairy may borrow it for a little while.
When you are alone and have a feeling that someone is there, you know that a fairy is close by. When you feel a gentle breeze while you are in your home with the windows closed, you know a fairy has taken up residence in your home. When you go out into nature and sit very quietly, you may hear a faint sound carried on the breeze, this is usually the sound of a fairy singing. Fairies live in the fairy realm so that if you catch sight of them and this image is not clear, this is because they are actually living in another reality.
Fairies love beauty and weave the most exquisite fabrics to make their fairy clothes. All fairies have hair like silk and they can spend hours a day brushing it and placing beautiful combs in their hair. You can be certain that if a fairy is close by you will have an overwhelming sense of happiness and joy, and if you are working on something you will feel especially creative. If a fairy is near an adult, the adult will often remember the joy they felt as a child and may think about times when they were young and carefree.
When you walk in nature and see mounds of soil, these mounds are actually made by fairies and communities of fairies live in them. When you sit near a still lake or pond and are very quiet and still, focus on the water and you may glimpse the water fairies who look a little like mermaids with wings. Next time you see dragonflies look very carefully as fairies often fly with the dragonflies, they also spend time with other nature spirits such as elves, gnomes and pixies. Even people who say they don't believe in fairies, really wonder if there are fairies flying around and everyone at some point in their life has a close encounter with a fairy.
When a baby looks as though it is laughing at something that isn't there, it is actually looking at fairies, watch next time you see a baby giggling at nothing, be very quiet and listen, you will hear the tinkling sound of their bell like voices.
Some fairies are quite mischievous and love to hide small items belonging to humans, this usually only happens with the very young fairies, as they become older and wiser they learn to exercise a sense of decorum.
It is believed that fairies like to reside in the thorn tree and those who believe in fairies would never think of chopping one down.
If a fairy ever tells you its name, you are very lucky indeed because this means you can call on your fairy friend whenever you call their name, although they will only come if you are alone.
Fairies are very happy spirits and they often sing and dance, a fairies singing and dancing is said to be the most beautiful ever heard and seen.
Fairies make their own gold and conduct their business with it. Fairies also live by rules and all but the most mischievous of the fairies abide by the rules, one punishment for fairies if they keep misbehaving, is to have their wings clipped so they are not able to fly for one month, when this is done they learn their lesson and do not misbehave again.
On occasion a human person will go to live in the fairy realm where they are able to live for a hundred years. Fairies love to paint and are capable of producing the most beautiful art, and it is said that some of the old masters had the help of fairies as they worked on their masterpieces. Whether you believe in fairies or not there must be pause for thought, fairies have been painted and talked about for thousands of years and they still remain an enigma.
Fairy Names:
Choose the faery name that you are drawn to, sound it out to see if the vibration of the name feels right for you, let your intuition guide you. By choosing a faery name you are inviting faery magick into your life. Faeries are mystical creatures and life is always better when they are around. Before any magick practise or before meditation say your faery name out loud three times, by doing this you consciously invoke faery energy and add potency to any magick work or meditation practises.[/vc_column_text][/vc_column][/vc_row][vc_row][vc_column width="1/3″][vc_column_text]Alvisa
Alsen
Alnosa
Asena
Alile
Begona
Brigen
Brena
Bittan
Besane
Cathen
Cosia
Casele
Cosena
Corane
Doranth
Derona
Demile
Dellar
Domar
Engatha
Euphren
Emathe
Elmar
Ephwar
Foresta
Fettam
Freylar
Fistonia
Fresmar
Gamane
Gisset
Geffar
Goldame
Golar
Hasan
Hepsonar
Hethane
Hollamia
Hopenny
Islatar
Ilsepas
Leftemi
Lopeth
Leray
Limpet
Lifthe
Magendar
Mabellia
Miphaneth
Maizmar
Misellrai
Nofar
Nephley
Nomaline
Neesweth
Niphlar
Opaline
Olsapine
Ottemai
Ottepha
Offsemar
Prearna
Presmath
Pincole
Pinevair
Phoetestay
Queenstar
Quilesse
Questar
Questaphane
Quistine
Roselph
Ristain
Rifensar
Rometh
Remasay
Silphane
Silver
Simjay
Siphilmire
Semsebar
Tippy
Totezane
Timplemay
Twasar
Tolsane
Uphren
Umbar
Unile
Unefet
Unape
Veronay
Volsar
Velmear
Vamsar
Vintespay
Xolain
Xaymin
Xyvinar
Xpensomal
Xtephae
Yetam
Yampolane
Yesmire
Yitten
Yaymar
Zento
Zephan
Zetta
Zimola
Zeph[/vc_column_text][/vc_column][vc_column width="1/3″][vc_column_text]Fast faery
Loving faery
Clever faery
Nosey faery
Calm faery
Truthful faery
Dancing faery
Musical faery
Sparkling faery
Faery of words
Laughing faery
Serious faery
Sleepy faery
Bossy faery
Talkative faery
Intuitive faery
Faery of the flowers
Woodland faery
Faery of the stars
Faery of the lake
Faery who sews
Faery of powerful magick
Faery of the sky
Faery of the arts
Faery counselor
Forest sprite
Faery of the Moon
Faery of the roses
Good faery
Mischevious faery
Little faery
Gossamer faery
Graceful faery
Water nymph
Golden Queen
Faery of power
Faery of green fields
Faery of dewdrops
Faery of the grass
Faery of the lake
Faery of the trees
Golden haired faery
Cotton faery
Faery of the bluebells
Faery of the birds
Dragon faery
Dark haired faery
Faery of the rainbow
Warrior faery
Faery of languages
Faery of music
Mystical faery
Faery of the night
Faery of words
Faery of light
Faery of kindness
Faery of laughter
Faery of the garden
Faery of gold
Faery of silver
Bestower of gifts
Nightime faery
Faery of courage
Faery who does act
Faery of dance and music
Faery of the home and hearth
Faery of beauty
Faery from the royal castle
Faery from the golden hills
Star faery
Faery with gossamer wings
Faery of the clouds
Faery of the golden orbs
Keeper of the faery keys
Keeper of the faery tablets
Faery of languages
Faery of light
Faery of music
Faery of myths and legends
Faery of Autumn
Faery of saphires
Faery of bells
Faery of travel
Faery of animals
Faery of the land
Faery of the mind
Faery of intuition
Mischievous faery
Faery friend of elves
Faery carer of newborn babies
Faery of health and vitality
Faery of apple trees
Faery of blue flowers
Faery of the night
Faery with red hair
Faery who watches over children
Faery of hospitals
Queen of fairyland
Faery of communication
Faery of summer
Dispenser of magick faery dust
Faery candles maker
Faery of Winter
Faery of health
Faery of mind magick
Faery of blue light
Faery of memory
Faery of spring
Faery of all that is good
Faery of luck
Faery of blessings
Faery of the stars[/vc_column_text][/vc_column][vc_column width="1/3″][/vc_column][/vc_row]