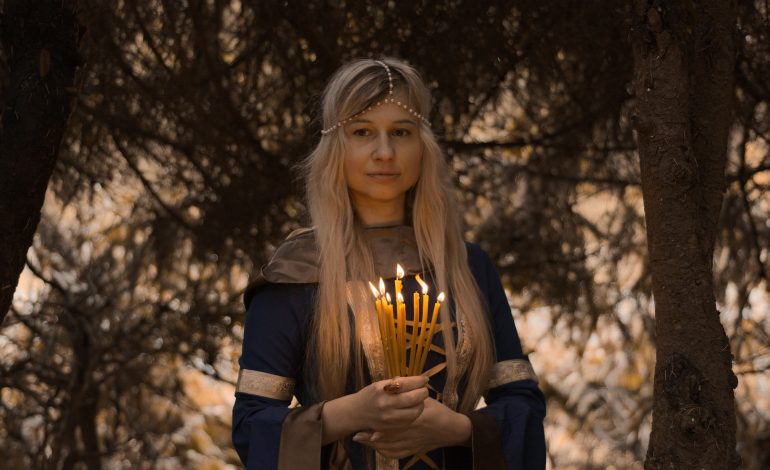 Candle Magic
Candle magic is an ancient art and it is the most widely used magic practiced today. The candle itself is a very powerful magical tool it contains all the basic elements earth, wind, fire and water, earth is represented in the wax, water the melted wax, the flame fire and the air is the smoke. The colour of the candles is very important as the different colours will bring with it its own energy and power, green for healing, red for empowerment etc. Each of the elements has with it its own single coloured candle, green for earth, yellow for air, blue is for water and red is for fire. The different colours also represent either a yin female or yang male energy, yellow is yin, green is yang, blue is yin and red is yang.
A candle is believed to have its own vibration and can be used in meditation and divination, pink or violet is a calm and soft light where as red is strong and powerful, when a candle is lit its colour is released into the surrounding area which will bring a nice energy into the room. If during your ritual you need a lot of power, light multiple candles. By rubbing oil over a candle before your ritual this will charge the candle with your own personal energy.
Magical tips on candles.
It's always a good idea to clean candles, this will strengthen their power.
Candles prefer not to be blown out, but to be put out using a toll or wet fingertips, blowing out the candle may insult the element.
It is best to use a different candle for each magical purpose, if you are using a red candle for love and a white one for healing, keep them separate.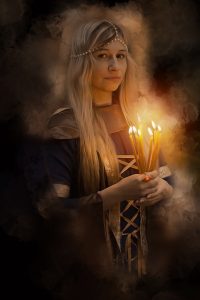 A white candle is symbolic of purity and can be used in place of any other colour.
Any candle can be used in your magic, but beeswax candles are more powerful.
Engraving a candle is a good way to bring about your wish and by adding a letter of the magical alphabet you will bring mystery and connection to the ancient art of Wicca. A simple example could be to engrave a heart for love and a dollar sign for wealth in your ritual.
If a candle goes out whilst you are practicing doing magic, this is a sign, a message.
On your birthday when blowing out the candles you perform an act of candle magic. No one really knows where the idea of placing candles on a birthday cake came from, the main possibility is from the ancient Greeks who would bake round cakes in honour of their Moon goddess Artemis, it is said that the Greeks placed candles around the cake to resemble a glowing Moon.
Using your own homemade candles will greatly increase their power, candles are very easy to make, you only need to heat wax, add the wick and leave it to cool down then place it into a fire-safe bowl to burn the rest of the way down.
Looking into the flame of a candle is the perfect way to regain or strengthen focus .
A simple candle ritual is to sit in a darkened room facing a mirror, place the candle in front of you and look at your reflection, let your eyes relax and after a few moments your face will begin to change. Your reflection will reveal what you looked like in your past lives. This magic ritual can also be done with a friend. Both of you sit in a darkened room with a candle between you, and as you look at each other letting your eyes relax, you will see what your friend looked like in their past lives.
Some simple yet powerful candle magic is to write your  wish on a piece of paper and fold it in half, light one corner with the candle flame and hold the paper as long as you can before the flame reaches your fingers.
To charge your candle you can rub essential oil into it, this will add power to your magic,
any oil can be used it's a personal preference.
Each of the twelve astrological star signs has a specific colour, you may wish to burn the candle for your star sign to empower yourself and enhance your strengths, or you may like to burn a coloured candle associated with another zodiac sign to empower yourself with the strengths of that sign. You may decide to use the strength, determination and wisdom of Scorpio the scorpion  before an important business meeting.
Zodiac Colours
Below is a table of the Zodiac and the corresponding colours:
Gemini the Twins, ruled by Mercury, colour yellow, air sign, best for spells with connections, intelligence and movement.
Cancer the Crab, ruled by the Moon, colour silver, water sign,  spells for love and friendship.
Aries the Ram, ruled by planet Mars, colour red or poppy, fire sign , spells for re-energising or lifting the spirit.
Aquarius the Water Bearer, ruled by Uranus, colour blue, air sign, for rituals to do with detachment, organisation or independence.
Taurus the Bull, ruled by Venus, colour green, earth sign, spells for wealth and fortune.
Leo the Lion, ruled by the Sun, colour orange, fire sign , spells for passion and sexual pleasures.
Libra, the Scales, ruled by Venus, air sign, colour violet or pink, spells for balance, romance and peace.
Capricorn, the Goat, ruled by Saturn, colour black or brown, earth sign, spells for ambition, loyalty  and determination.
Scorpio the Scorpion, ruled by Pluto, colour red or cherry, water sign, spells for intuition, sex, self empowerment and passion.
Pieces the Fish, ruled by Neptune, colour white, water sign, spells for inspiration, divination, intuition or dream magic.
Sagittarius, the archer, ruled by planet Jupiter, colour purple, fire sign, spells for creativity, confidence, happiness, trust and travel.
Virgo the Maiden, ruled by Mercury, colour pale blue, earth sign, spells for healing, communication, peace, and advancement.
Scented Candles and their magical strengths:
Blueberry – burn to keep unwanted negative energies away from your home.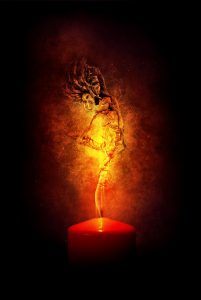 Blue Rose – this is used to honour the goddesses.
Carnations – are traditionally used for healing.
Cherry – perfect to attract and inspire love.
Cinnamon – burn for wealth and fortune.
Coconut – burn this scent for purification and protection.
Copal – is perfect for honouring the Gods.
Frangipani – can be used to stimulate positive energy in a sacred space.
Honeysuckle – is used to bring good luck, health and strengthen psychic abilities
Jasmine – Burn to be lucky in love.
Lotus – burn for a harmonious life, inner peace and for meditation.
Musk – Used to gain courage, strength and to heighten sexual passion.
Myrrh – this is an ancient scent used for protection and purification.
Passion flower – use to ensure peaceful sleep, soothes troubles and calms the mind.
Patchouli – scent to attract money.
Pine – use to gain strength, and repel negative energies.
Rose – perfect for love magic, and a peaceful home.
Sandalwood – is an all purpose scent for healing and protection.
Spice – is a passionate scent for all your magic workings.
Spirit – used to attract guidance from spirits.
Strawberry – burn for love, friendship and luck.
Tangerine – burn to attract prosperity.
Temple – perfect to use on an altar during rituals.
Vanilla – burn to enhance memory and stimulate sexual appetite.
Coloured Candles And Their Magical Strengths:
Purple: power, business progress, ambition.
Red: love, health, sex, strength, energy, fire element.
Green: money, luck, fertility, prosperity, earth element.
Orange: attraction, ambition, stimulation, creativity.
Black: to heal discord, repel evil and repelling negativity and remove confusion.
White: truth, purity, peace, spirituality.
Brown:  fosters neutrality, overcomes uncertainty and hesitation, grounding.
Pink: love, morality, honour, romance, friendship.
Orange: attraction, ambition, stimulation, creativity.
Gray: calms, repels negativity.
Light Blue: tranquility, patience, health.
Dark Blue: aids depression and changeability.
Greenish Yellow: mellows jealousy, anger, discord.