Ritual Magic
Rituals can be very quick and simple or elaborate and ceremonial, magical ritual however does stand apart from other rituals.
Magical rites are unique and before performing them it is necessary to have an intention, this is a clear idea, vision, image of what is to be attained from the magical rite about to be undertaken. When magic is practiced we are embarking on a journey into the unknown, as we travel through different dimensions. The more people embarking on this journey, the more information there will be to share leading to spiritual evolution, as human consciousness journeys into new realms that offer insight and wisdom.
When practicing magic rituals there is a connection with a different type of consciousness that is beyond mortal, from this inter-dimensional contact comes the opportunity for enlightened thoughts and actions. Although as the levels of communication are so different with the different spheres of consciousness, often the information received is in a symbolic manner.
There is a soul consciousness linking every single human being, no matter how divergent we may be from each other, one energy impacts another, especially so with those who are awakened and dare to delve beyond human consciousness. The mortals who are open and have the ability to commune with different realms, are not only individually affected by divine energies, they have an affect on their family, friends and loved ones. The flow on from this is that they in turn will affect others with their passive contribution to human evolution.
Imagine if one inter-dimensional message in the form of love, acceptance and healing, reverberated around the world, there would be a variation in all consciousness. Therefore as humans work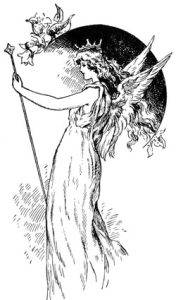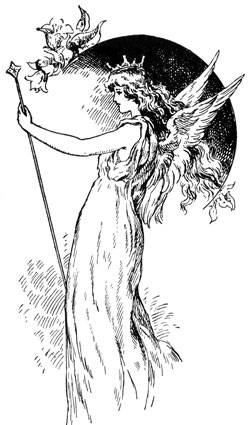 with magical energies in the spirit of love, kindness and across time, man then absorbs the universal flow which affects all existence. Just one interconnected bolt of supernatural energy at a particular point in time, can trigger a sequence of events that would otherwise not have occurred. There are powers at work available for us to tune into that in our earthly consciousness would not register.
To be an effective magician requires the ability to still the mind enough to be open and receptive, enabling you to channel information in the form of energy. Each individual has the power within, as to whether they have the focus or the ability to tap this power and use it effectively, is another question. Those who are involved in activities such as running a race, competitive swimming, the martial arts or any sporting events, have an energy within that they need to hone, focus and channel with a particular precision to attain the desired result. The practice of magic is much the same, it takes dedication, commitment and an understanding of how to tap the inner power source and hone it.
Magic rituals create a link with intelligences more evolved than we are, they vibrate at a much higher frequency than mortals, and they are impossible to contact with our earthly everyday senses, hence the need for rituals. To successfully connect to supernatural entities, regular meditation and magic is combined, intensifying the connection.
Before beginning your ritual consider what it is you want to achieve, what end would you like to produce. The qualities you will need are imagination, patience, dedication, curiosity, the will to learn and the want to commit. Magic and meditation can only enrich and enhance  your life, as you become open to a myriad of possibilities. In some ways when you are practicing ritual magic you are dealing with a power not unlike electricity, and as with electricity it is meant to be handled with care as its exact nature cannot be defined. Learning what to do with the power you are invoking is as important as the stages of the magic ritual you are performing.
The practice of magic in modern times does not require a sacrifice and the spilling of blood  to appease the gods, or as an offering to the otherworldly beings who are to be summoned. The principles of ritual, many of which have carried through from ancient times, are as valid now as they were when performed centuries ago. Many of the consciousness exercises, techniques and meditations are still used today.
One question to ask yourself is why you want to practice ritual magic? The energies of the occult are powerful and a degree of reverence and caution is needed when working with these powers. Think of yourself as an initiate, or the sorcerer's apprentice who is learning how to manifest and manage otherworldly energies. Ritual and magic work can be repetitive as you try spell casting and try again, over and over. Dedication is required and a commitment to what it is you are learning. Magic is a natural force available to be used by those who have the key to the door, magic is like alchemy, forces come together to create. The are many paths that can be taken in the initiates journey. To become a magician you need imagination, the power of visualisation, discipline, trust, faith, belief, intuition and the ability to commit.
When you begin your ritual work you will learn with practice how to exercise control of consciousness and action through inner dimensions, thus becoming the master over the magic you are conjuring. In many ways you are the initiate learning how to handle the power, this is akin to the electrician who learns how to safely handle electricity, and always proceeds with caution and respect for the power being handled. It is also necessary to have an evolved moral code, guiding you towards using the powers you will be working with for benign purposes only.
When learning how to practice magic we are absorbing information that alters our consciousness, depending on how we individually respond to it, this change penetrates the structure of our soul. Ritual depends on discipline, knowledge, order, and success depends on our ability to isolate a stream of consciousness, while expelling all influences that will interrupt the pure flow.
To become receptive to divine energy we learn how to achieve a blank mind, while maintaining an alert consciousness. It is necessary to become still and calm, yet remain focused and alert, relaxed and peaceful while being open, willing and ready. From the stillness and the silence comes the all.
In the stillness you may want to acknowledge, "I am not my body, my thinking, what I see, hear, taste, smell or touch, I am not affected in any way by my senses. I have the ability to control consciousness from whatever high level it is received." Learning how to turn off individual consciousness, is the base from which all magic practices work.
For ritual work a circle is created to work within, take a pen shape piece of clear quartz crystal and hold it in the right or the left hand, or you may use a wand in place of a crystal, a wand seems to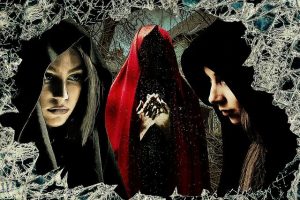 add to the majesty of the moment. Stand up straight and point the crystal or wand, upwards, this is to acknowledge the divine energies from above, point the crystal or wand downwards to acknowledge all other supernatural beings. The energy is felt from the center of our being, face North and pointing the preferred magical object towards the floor, move in a clockwise direction creating a full circle, ending facing North again. Repeat the process, only this time draw a lateral circle, as though standing within a hoola hoop. Next turn sideways, and depending on which hand the magic tool is in, the left or right shoulder will be facing North. Repeat the original process, beginning North and working clockwise form a vertical circle, with this ritual a circle of the Cosmos is drawn . Before doing anything else a state of absolute mind stillness must be attained and maintained, this allows us to bring our minds to a point of focus leading to complete detachment from the outside world.
Focusing energy is done by holding a rod that is pointed at one end, or a wand, as you stand straight and face East, hold the wand in both hands and point it upwards with your hands touching your face. Keep your breathing relaxed and calm and imagine the energy from above connecting. Think, "let my energy and the energy of the wand, become as one with the Cosmos."
There is a ritual of will and intention that can be done while you are in your magic circle, while holding your wand, conjure in your consciousness something that is worrying you. A problem that you naturally react to, acknowledge and feel the reaction, then think of the word banish, and see the problem being dismissed and disappearing into nothing. You are using the ability to control your consciousness by will and intention, by intentionally calling on something then intentionally banishing it. Very clearly tell the problem to "be gone," you are sending it out into the universe to then dissipate, it becomes smaller than the naked eye can see and vanishes. Hold on to this point of nothingness for a moment, through will and intention, you have raised and laid something, you are now immune.
A very similar ritual, again while standing in your magic circle with your wand in one hand pointed downwards conjure an image of what you want to change. See it in the darkened sky as if looking at a screen, concentrate on the energy within feel it building and moving upwards to then meet with all manner of supernatural energies. The energies meld into the image in the darkened sky obliterating it, the new imagery of what it is you want to create is manifested and appears on the screen. You feel all opposition to the new image released, there is no resistance to the new manifestation. Point your wand upwards, feel the energy of that which you desire meeting with the tip of your wand and being transferred into you, to then manifest in your earthly life.
With all ritual magic you are moving from a place of neutrality, to a place of linking with the energy of the infinite, the source of energy. To become an adept at ritual magic means learning how to manage energy. Each night before going to sleep allowing your mind to empty, you do this by releasing the days thoughts and feelings. You are detaching yourself from earthly events and allowing yourself to become open to the all, you are rising above physicality. Begin each day with a clean slate, start with a neutral uncluttered mind each morning when you awaken, thus allowing yourself to be open to possibilities. Learn to rise above reaction to daily events, and remain in the zero space of neutrality which allows an objective view of all things. By practicing energy control you not only become a more powerful magician, but a more powerful human. This is a way of banishing all that is negative and being receptive to manifest all that is good and positive.
While standing within your ritual circle you can create another space around your body, this can be done with a small crystal in each hand, or a crystal in the left hand and wand in the right. Face North, stretch both arms above your head and let your wrists touch, keeping your arms straight bring them down to shoulder level, extended either side of you. Still keeping your arms straight move them in front of your body with wrists touching, then move both arms until you are touching your legs at the front. Do one full turn to the right and end up facing front, then one full turn to the left facing front. Imagine a white cocoon beginning at your feet, moving upwards and encasing your entire body, then meeting and sealing over your head. Here is your space of suspended animation, a space where you are not affected by what is going on anywhere, a space of complete neutrality, beyond time and space, you created and you control your circle of timelessness. By creating and inhabiting your cocoon of timelessness and light you open a doorway to the Cosmos and all the magic within, you become the keeper of the keys, to the doorway of magic.
Once it is established that energy is omnipresent, it can then be absorbed rather than being sought out, it is a force field in which an individual can become part of the whole. If energy IS then we must learn how to become ONE with it, if we are at ONE with the energy that IS, we then become part of the ALL, the SUPREME energy. Over time ritual preparation becomes faster as there is familiarity with the subtleties of the ebb and flow of energies, creating a cocoon of timelessness, light and neutrality can be done in a moment. The ultimate aim is the control of our Inner and Outer worlds, providing a link between Earth and beyond.
When creating a magical world in which to work while practicing rites, it is also necessary to know how to readily close the door and exit your created world once work has been completed. A simple ritual to collapse the magical space is to take three deep breaths, exhale deeply count backwards from three to one, when reaching one, clap both hands together three times and say the word "release." Once this has been done, shake the hands as if shaking off water, sip some water and wash your hands.
Once you have the doorway to magic you must then learn how to conduct yourself in other dimensions, and learn how to decipher the information given to you, as often messages come in a symbolic manner. The symbol is a connection for you from one dimension to the other, deciphering the symbol is the key. Much like a new language symbols are your connection between dimensions, in effect energy is being exchanged. When connecting with intelligent beings in other dimensions through magic ritual a language is being constructed to allow communication, this is done through symbolism. A skilled practitioner of the tarot may receive the symbol of a tarot card during their communication. A rune reader is likely to receive an inscription pertaining to a particular rune stone. A numerologist will see numbers, and an astrologer will see zodiac signs. Goddesses and Gods often appear and you may spontaneously feel their message, or there may be a slow dawning of understanding. You may also find that certain deities with particular traits present themselves often. If any of these symbols are presented to you and you have no history with any of the divination skills, allow yourself to meld into the symbol, by doing this your imagination and intuition will be activated.
Those not involved in divination practices may see a car, a house, water calm, or tumultuous, they may be shown a heart, this pertaining to love, there could be a multitude of other signs that can be related to. Other times a shape, or a sign is seen accompanied with a feeling the visual and the feeling creating a whole, this triggering the imagination and intuition and a message is delivered.  Through a mutual connection an understanding is reached between dimensions, and over time various symbols present themselves over and over, from this spontaneous understanding is reached. With regular ritual practice a natural harmony is reached and you have your dimensional Master key.
When a symbol is presented that you have never seen before you will not instantly decipher the message, however be still and feel yourself enter into the symbol, become one with it, by absorbing its essence understanding will be reached. Magical understanding will come to you through merging with the symbols, your understanding and ability will evolve over time. Over time you will find that through ritual practice words will not be necessary,  understanding will come through symbolism and the feeling that goes with it, you will absorb the message the way you breathe in air. You don't question what constitutes air, or what happens as you breathe the air in and how it affects your body, you just accept that it is the giver of life and you understand. It is the same with ritual magic and symbolism, you begin to breathe in the understanding and it reaches your consciousness. A symbol that often appears during ritual work is the ankh, the symbol for everlasting life, this can have a variety of meanings depending on when and how it is presented.
Look at the symbol of the ankh meaning everlasting life, imagine you were doing a love spell regarding the future success of a relationship and the symbol of everlasting life appeared, the meaning would be everlasting love, longevity, bonding, partnership, affirmation of love, durable partnership, depth. If the ankh appeared in answer to a spell associated with a business partnership, it would mean durability, strong ties, complementary objectives, ideas in sync, long term success. If the ankh appears like a figure eight, eight in numerology is associated with money, managing money. The figure eight often appears when there are obstacles to be overcome, it can mean success after effort, it can mean difficulties that will require action, determination and dedication. More than one ankh linked together can mean continuity, building, fitting together, working together, extending, growing. As a symbol appears to you, allow yourself to enter into it, let yourself become one with the energies and feel the message. In this way through ritual magic, one symbol can be presented and through merging with it, and feeling, a plethora of messages can be absorbed.
If you need to charge your energy you can visualise the ankh in front of you exuding energy and you absorbing the energy, this is a very effective meditative exercise. From this visualise yourself filled with the energy of the ankh, then you are able to exude the energy to create harmony around you. Send the energy out to friends, family and loved ones, if someone is sick send healing energy to them. Once you begin to feel and understand the transference of energy, you will understand the depth and breadth of energy merging and sending.
Once your ritual has ended and the circle has been closed, document everything that you  felt, saw, heard and did. Draw any symbols that were presented to you and write what message was transferred from the symbols. During future rituals do the same and also note if any of the symbols are repeated.
Ritual magic should always be practiced at night, if you choose you can use the lunar cycles, for powerful rituals there is more energy during a full Moon, for less intense rituals the waning Moon is suitable. For ritual work candles can be inscribed with particular zodiac signs, depending on the intention of the spell you will be conjuring.
Elements and Magic
Air, the element of Air keeps us alive, Air is Prana, energy, when breathing and connecting with other dimensions we are breathing other atmospheres. Incense is lit to symbolize the element of Air, it creates an atmosphere that will match the frequency of the ritual you are practicing. With the element of Air you will invoke the archangel Raphael, he is the healer of all things a broken heart, physical ailments, emotional ailments, throughout time this is his role. Raphael instructs humanity, the sword he carries is the symbol associated with the element of Air, it is also the instrument to cut away disease, and negativity. The sword cuts through issues and brings matters to a head, the sword also prunes that which is no longer necessary. With the point of the sword, the energy of Raphael, and the movement of Air thoughts can be sent out to the universe, reaching into all dimensions. The sword protects, the sword defends, the tongue is a sword and can bring kindness or pain.
Fire, is a powerful element and when invoked, the archangel Michael should also be summoned, for his personification of reason and right overcoming wrong and narrowness. Fire overcomes, heals, cleanses, rejuvenates, by calling on Michael, the power of Fire is directed inwardly and outwardly. Michael is a healer and brings balance, he transforms fire into a safe and manageable form. This ritual begins once the match lights the candle and Michael is invoked to contain and channel the element of fire. The element of Fire can be invoked to help a ritual associated with letting go on some level or another, or to remove the old to make way for the new. It can also be invoked for a new relationship that wants to build on a clear foundation, the energy of fire fans the light of love. If you regularly think of Fire and Michael for a few moments each day, you will have no difficulty invoking the powerful element of Fire for your ritual. Whenever candles are lit before a Fire ritual, or before any ritual, do so with a sense of ceremony, attention and formality. Use a tapered candle or match, to light all candles, and with a sense of the inner spark being ignited to meet with the energy of other dimensions. Fire can warm us when we are cold or it can burn us if we get too close, and do not respect its power.  It can light the way and offer clarity, the understanding and managing of its power is all important.
Water, the element of Water pertains to the ebb and flow of emotions and relationships, before birth we are immersed in water, our bodies contain water. Plants need water to grow, crops and flowers need water, it is absorbed into the earth and gives life to all that grows. Water links conscious and unconscious energies with the all, integrating all life forms. If a water ritual is being performed the archangel Gabriel is called upon, Gabriel is the carrier of messages between different levels of intelligence. He is the symbol of fertility such as fertility of the mind, fertility of a business or fertility of the body to bring new life into being. Before beginning a ritual with the element of Water, take a cup fill it with water and place it near where you will be working, as you fill the cup you charge it with the energy and the intention of the magic spell you will be practicing. You are willing the energy of what it is you wish to achieve as you charge the cup. The cup has a consciousness and understands what is required, whatever the concept it is held within the cup. A powerful ritual is the transference of someone's energy into a cup of water, as the cup is filled with water the person connected to the ritual is imagined in the cup. Their energy is moving within the water, you then drink the water with love and light while thinking of the spell you are about to perform, by doing this you become as one with their energy and they are part of the spell. This is often the ritual of lovers, it can also be done in the form of healing, the person becomes a part of the loving healing energy exuded and becomes one with the Cosmos. The cup can be used in reverse by filling it with water and whatever it is you want to remove from your life. Whether this be financial difficulties, letting go of a relationship, behaviour, negativity, focus as you fill the cup on whatever it is you want gone. You then tip the water out letting go of whatever it is you want removed, let water from the tap run on your hands as all negativity is washed away. Water rituals can help with emotions, worry, anxiety, love, bonding, partnership, healing.
Earth, contact is kept with Earth as links with other dimensions are attained, contact is kept with Earth as we work with inner and outer forces. Ariel is the archangel of Earth and presides over the luminaries, he connects us with creation and teaches us how to absorb Earth's energies. Auriel is knowledge and experience and urges us to quest, Ariel helps our Earth consciousness connect with the great unknown, he offers us the key. Ariel encourages us to respect the Earth and its natural power of peace and harmony or natural disaster, Ariel monitors and controls Earth's behaviour and the forces of it. A rock or a gemstone can be the symbol used for the element of Earth. Call on the element of Earth for any ritual where you would like to change one thing into another, such as a long term relationship into marriage. A part time job into a full time career, financial lack into abundance, where you need an alchemical reaction of one thing turning into another more valuable thing, Earth is the energy to work with. If your ritual is to do with wisdom and understanding coming to you concised into a symbol, an Earth ritual while invoking Ariel will provide the necessary energy. Call upon the element of Earth when you want answers in a feeling, via a symbol, you will absorb the message as a whole. Ariel plants seeds of consciousness that grow with vitality and life, providing answers to problems that arise on Earth. The symbol of a shield represents Earth and can be conjured as a means of protection also, the shield can also be a reflective area for that which is desired by the conjuror. The shield also helps abstract ideas take shape, take form and become understanding, the shield can draw understanding, or repel negativity. For a banishing ritual a shield can be used, as it repels negative people and situations, the shield is useful to draw something to you, or to repel or banish something as you deflect harmful thoughts or energies.
There is a colour and light ritual technique that can be used, the premise is along the lines of colour therapy. After drawing your circle, and before invoking, chanting, meditating, think of colour and let a colour pop into your mind. Whatever colour you choose, this will be the colour frequency from which you will be working during your ritual. This is like turning on a light in your home by flicking the switch, at the end of your session the light can be switched off. By doing this you are illuminating your inner being, and as you embark on your ritual you will see the chosen colour throughout your rite. This is a very efficient technique if your energy is at a low ebb, or you are feeling down in the dumps, or frazzled, the light will have a healing effect. You will find that there will be a particular feeling, depending on the colour of light you have chosen, or the colour that is revealed to you and you work with. The information you receive will depend on the frequency of the particular colour.
Ritual is a connection between differing dimensions, allowing information to travel from one to the other, as intelligences from other dimensions operate through inner dimensions. The ritual begins from the moment the circle is drawn and powerful energies are invoked. We then open ourselves up and become receptive to receive information and impressions, reflected back from other realms to be deciphered by the conscious mind. In some ways we are sending a beam of energy and light, and depending on the depth of connection some response is received from another intelligence. Sometimes impressions can be fleeting, such as catching a glimpse of something out of the corner of the eye, or thinking you heard something but don't know where the sound came from. There can be a scent that arouses certain feelings, thoughts and memories, in a way, you are receiving thought, feeling, sound sense and imagery as a whole that is to be interpreted. This you do after you have completed your magical ritual and closed the circle. Magic rites begin with energy and attitude, a powerful motivation will allow you to release a power to work with, it is necessary to be totally present.
Consecratory rites, energies coming together for a specific purpose, a dedication is made to all who take part in the rite, so that human and otherworldly dedicate to the mutual purpose. The rites of consecration include invocations to the deities, or beings you will be invoking, along with a clear definition of what the intention of the ritual is.
To prepare for banishing rites the intention must be clear from the beginning of the ritual, so that as you invoke energies they know for what purpose they have been summoned. When participating in a banishing rite it is necessary to be ready to let go of whatever it is that you want banished, by consciously entering into this rite with this in mind it is easier to banish successfully.
Our consciousness is operating on diverse levels, and becoming more aware of our physical senses is an important aspect of ritual magic, as these senses link us to other dimensions. Our own attitude towards the performing of rites, plays an integral part in successful spell casting. Regular practice along with a focused and dedicated attitude, will assure growth and success for the dedicated initiate. Many practitioners ring a bell at the beginning of a ritual before the circle is drawn, and at the end after the circle has been closed off. If you choose you may wear a particular outfit for ritual work only, this may be loose fitting trousers and a long sleeved top all in one colour. You may like a robe that wraps and you tie an elaborate, or colourful tie around it, whatever you decide to wear, only ever wear it for ritual work and in the meantime keep it wrapped in fabric until it is needed. Before beginning any ritual magic you may wish to use a word that you like the sound of, this can be a made up word and by using it before you begin it initiates the beginning. Use it at the end of your ritual also. By preparing a sacred space, using candles, incense and scented oils, drawing a circle and invoking otherworldly energies, you have the tools to practice ritual magic. Always work with love in your heart and for the good of all, thus respecting the threefold law of "do no harm."