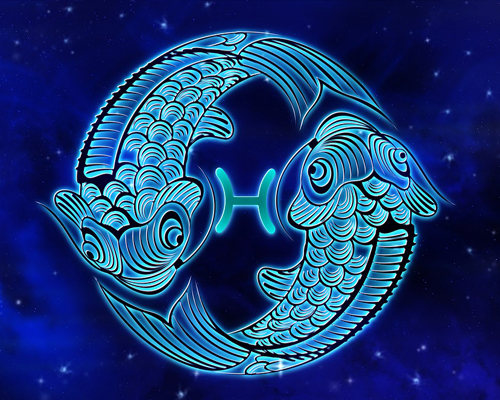 Pisces (Feb. 18-March 20) Horoscope for May 2022
Allow things to unfold in an organic fashion, just as you can't force a flower to open without the Sun shining, try not to tug at the seeds you planted as they sprout above the earth. Commitment will be all important this month and it is a perfect time for vows to be exchanged.
If not already within reach, what you want will come to you, although it will be in an entirely unexpected manner.
Pisces (Feb. 18-March 20) Horoscope for April 2022
What you wanted one year ago, may be very different to what you now want, this doesn't mean giving up on what you have been doing this last year, it just means making some adjustments to the way you live your life. This will be better for you and allow you to create a much steadier foundation for you and the ones you love.
Pisces (Feb. 18-March 20) Horoscope for March 2022
Creativity flows around you and through you this month, within this there is opportunity for you to show just what you are capable of, leading to a study course that will enhance your life.
Someone younger will require your patience and understanding to help them reach a milestone. You may need to surrender to this situation.
An organised and disciplined approach to life will give you the structure you need. March will be a very fulfilling month, work with the planetary energies.
Pisces (Feb. 18-March 20) Horoscope for February 2022
Finances will be occupying your thoughts this month, you will be rethinking the way you handle money, it could be you have been listening to the wrong person regarding how you manage your finances. Pick up a copy of the book "The Richest Man in Babylon" treat this as your financial bible.
There is the opportunity for you to go away for a few days and stay with someone who's company you enjoy, us this time to clear your head and make concrete and manageable plans for the future you want to create.
There are pleasant energies around you for Valentine's day, you'll enjoy yourself.
Pisces (Feb. 18-March 20) Horoscope for January 2022

Relationships are all important this month, romantic and social. You'll be looking at the placement of others in your life and what role they play. It may be you are going to let some people go as you disengage from any negativity that has been present. This will lighten you up and is a positive way to begin the New Year.
If not already present in the life, you will be looking into Pilates and/or Yoga, which would certainly be of benefit to you. A new diet plan will come into play as you go on a health kick. Someone from your past is to appear.
Pisces (Feb. 18-March 20) Horoscope for December 2020
Dear Pisces, without doubt you are the floatiest sign in the zodiac and very in tune with your inner self. More than normal this month will find you with your head well and truly in the clouds.
If there is the opportunity for a new work environment towards the end of December, try, at least momentarily to come down from the clouds and be present during an interview, which may give you the pay rise you have been waiting for.
The planets align beautifully for you to enjoy the holiday season with those you care about. Relax, enjoy, be in the moment and look forward to the New Year.
Pisces (Feb. 18-March 20) Horoscope for November 2020
The Universe is calling for you to wake-up and take notice of the opportunities that are there for you. Trust that you will be guided and let your knowing help you to make the best of an unusual situation. There is change in your path and this is likely to offer a change of living arrangements, which is something you have been wanting. A seemingly chance encounter leads to a welcome discovery.
Pisces (Feb. 18-March 20) Horoscope for October 2020
Sometimes it is necessary and healthy just to let your mind float, try not to worry so much about what is going to happen in the future and just focus on what is happening in the moment. There are small positive changes you can make in the here and now to give you the life you want to lead.
Spiritual elements can guide you, give yourself space each day to meditate, try to do this at the same time each day. If you don't generally do this start with 10 minutes each day. Sit where you will not be disturbed, close your eyes, calm your mind and be still. This will clear away the mind cobwebs that have been unsettling you.
Pisces (Feb. 18-March 20) Horoscope for September 2020
Relationships will be challenging this month so try to keep your cool, focus on one thing at a time and think before you speak. Meditation will help the intensity of the energies around you and will help you find stillness.
If you are leaning towards something new let this month be the planning time, possibly defer acting until next month.
Working from home will be the outlet you require  and it may lead to a partnership with an unusual person.Believe in yourself!
Pisces (Feb. 18-March 20) Horoscope for August 2020
Something you have been trying hasn't worked, it is time to adjust your outlook and what you want may just come to fruition. Be open to change it may be just what you need. 
If finances have been tight, a new opportunity will fill the void. Keep to a steady savings plan, you will feel more balance and secure. 
Be patient with that special someone in your life. However, if you have been trying to force something romantically, now may be the time to rethink your options.