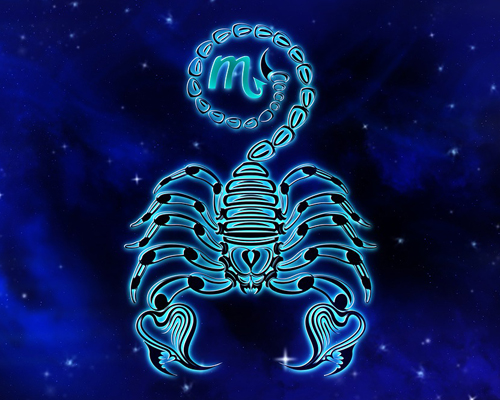 Scorpio (Oct. 23-Nov. 21) Horoscope for February 2022
It may be that all your electronics are acting up this month, this is do with energy fluxes that you are experiencing, it is important for you to find time each day to meditate to allow you to balance your energy and channel it effectively.
Your powerful mind may be running away with you, take charge of your thoughts, make sure they are positive and life enhancing, you'll finally realise that you are moving in the right direction and that you are being guided.
Scorpio (Oct. 23-Nov. 21) Horoscope for January 2022

A new approach to work is just what you need, you have maybe not been looking at the positives in your situation. Take time out to do the things you love  so that you can have work life balance. A new opportunity to show just how capable you are leads to something spectacular.
Someone with a dynamic  personality is to rock your life in the best possible way, this is the shakeup you didn't realise you needed. Hold on and enjoy the ride, it is just what the Dr ordered.
Health-wise, make sure you find the time to meditate and keep your thoughts positive, let your powerful mind work for you.
Scorpio (Oct. 23-Nov. 21) Horoscope for December 2021
You are to positively glow this holiday season as you shed some emotional baggage and begin to appreciate yourself and your capabilities. Those eyes of yours can see through people as though you have xray vision, listen to your knowing your psyche will guide you. Keep your mind positive and there will be no limit to what you can achieve.
Finances will be occupying your thoughts and you will be looking at ways to save more effectively, allowing you to create a comfortable nest egg.
Never one to follow an average path, you will be open to new ventures and adventures, to create what you want, use your powerful mind constructively. The skies the limit.
Scorpio (Oct. 23-Nov. 21) Horoscope for November 2021
The powers that be will be helping and guiding you as you begin to understand the spectacular entity you are. There will be people put into your life who are to guide you and being the dynamic person you are, you will surely take the road less travelled, the daring side of your nature will rise up as you move into a new way of being. Go with the momentum that has been building and you can attain what you want.
Scorpio (Oct. 23-Nov. 21) Horoscope for October 2021
There is about to be a change in your routine and this will be welcome, the energy that has been blocked is about to shift and with this comes pleasant and long anticipated change. A change in circumstance will give you a new lease on life. The options that are presented to you allow you to flourish.
The opportunity to travel will be yours, this will not come about immediately but the idea of knowing it will happen will be enough to bring about a huge attitude change, which will allow you to live life more pleasantly. Be the powerful you, you are meant to be.
Scorpio (Oct. 23-Nov. 21) Horoscope for September 2021
You may have felt like life has presented too many lessons and it has been difficult to keep up, especially with the most recent the Universe has given you. Realise how strong you are and use your powerful mind to calm yourself, know that you are growing and changing with every challenge, you will overcome and be able to have exactly what you desire.
Your goal is to challenge your misconceptions and let your mind unfurl all that creativity that is within, also be open to surprise opportunities that may be presented cryptically. Your high ideals will be satisfied.
Scorpio (Oct. 23-Nov. 21) Horoscope for August 2021
The opportunity that has been long awaited will come to you, it will be an enjoyable challenge and allow you to spread your wings. 
Try not to let your mind run away with you, especially if there are health issues you have been concerned about. Make sure you eat well and find time for exercise. 
Someone from your past may surprise you.